Jan 13, 2011
Kota Samarahan's first shopping mall will soon become a reality with the Summer Shopping Mall, which is bound to be an exciting addition to the booming, emerging division.
Slated to open by the end of 2012, the mall, developed by Tetap Majumas Sdn Bhd, will be a prominent architectural landmark on Jalan Dato MohdMusa adjacent to the mixed development of residential and commercial properties as well as the education hub of KotaSamarahan, catering to an estimated catchment of over 300,000 residents.
The much-anticipated mall will cover a lease/sale floor area of 500,000 square feet over three retail floors, which includes a departmental store and hypermarket as anchor tenant.
Upon completion, there will be 234 retail outlets comprising fashion, sports, bookstores, food court, karaoke time zone, eight-screen Cineplex and ample parking space of approximately 1,400 car park lots from the mall's basement and open-space car parks.
Committed and well underway to develop a retail destination like no other in the area, the outlets are currently open for sale or lease with individual shop lots ranging from few hundred square feet to few thousand square feet with a 99-year lease creating a platform for both local and international brands to showcase the latest trends.
The Summer Shopping Mall is envisioned as an iconic shopping haven for Kota Samarahan and destined to deliver the ultimate shopping, gastronomic and lifestyle experiences that beckon with every visit.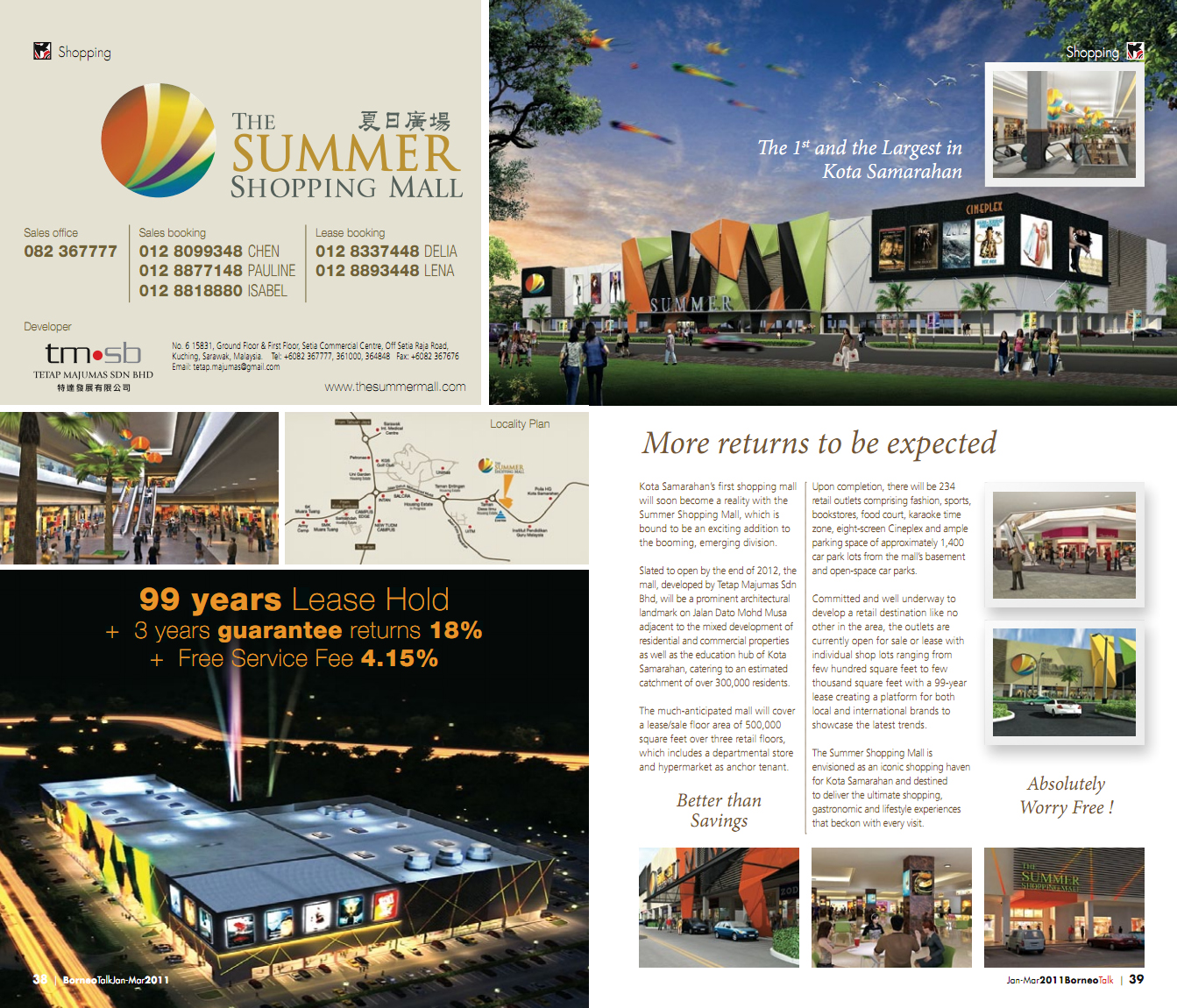 Note: The news is extracted from Borneo Talk Magazine Vol 19 JAN-MAR 2011