The Division in Sarawak is well known for its learning centres and its diverse development
In almost every big cities there are specific areas where educational centres and facilities are the main focus for that community. In Sarawak, Malaysia, Samarahan Division is the educational hub for the state. Designated as such since the early development of the greater city boundary that stretches all the way to this district, the area has since then seen rapid developments of complementary developments to cater to the fast changing landscape where agriculture was formerly dominant.
"While education centres play an important role in the development of the division, there are also many other types of developments here that some people may have overlooked when talking about Samarahan's new and emerging face," Frederick Bayoi, Chairman of Samarahan District Council, pointed out during an interview. "It is only natural that when there are centres of education like universities and colleges, the number of housing estates as well as shopping and entertainment centres too see dramatic rise in the area to meet growing demands and expectations.
Hence many people are quite surprised that Samarahan is actually no longer just an agricultural centre though there are still vast areas under crops and orchards. In fact, many choose to drive along our scenic country-style roads for leisure and pleasure, stopping at roadside stalls for small purchases of fresh vegetables and fruits," he said smilingly.
"In this way, there is actually a blend of the traditional and new developments within the division, which is actually one of the largest in the greater Kuching surroundings," he pointed out. "We are indeed grateful that these new changes taking place here will enable locals to enjoy even better facilities and amenities now. On our part, as the main agency responsible for the administration of the division, the district council has to also upgrade our services and expand on the services offered with the changing expectations. These we have been providing on an ever increasing pace in tandem with the developments taking place here," he revealed. He added that the council has been upgrading the skills of the staff and also their numbers to cope with the increasing demands, which will lead to greater number of skilled people in various capacities in future which augurs well for the state and nation.
In addition to the education centres and shopping facilities, Samarahan division is also home to many cottage industries supplying to the main cities and towns in the state and also abroad. The vast land and varieties of vegetables, fruits and other crops make possible large-scale plantations here, including aquaculture and lucrative bird's nests cultivation. The tourism aspects are mainly riverine related like canoeing and upriver scenic tours but is certainly the best place to get fresh coconut whenever you feel thirsty or sink your teeth into freshly dissected pineapples, oranges or durians when in season.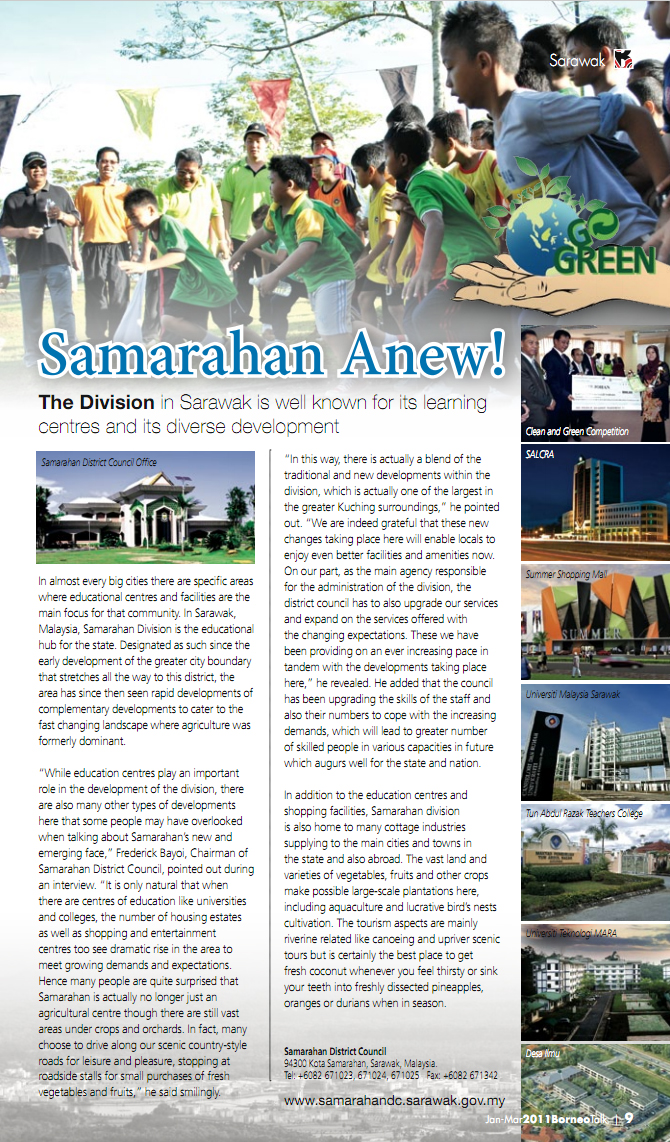 Note: The news is extracted from Borneo Talk Magazine Vol 19 JAN-MAR 2011